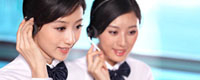 Name: Jessie
Tel: +86-755-27864416
Mobile: +86-18823763597
E-mail: jessie@rxxdisplay.com
Add: 3rd Floor Bldg.11,ChangXing Technical Zone,Wan An Road,Sha Jing town,Ban An district ,Shen Zhen ,GuangDong, China.
Skype: +8618823763597
WeChat: +8615623028461
whatsapp: +8618823763597
QQ: 1610996003





Company News
>> Cross-strait panel industry to catch up with Korean factory OLED 23th,June,2017
The cross-strait panel industry seems to have shifted the focus of investment from the LCD to OLED. Most of the small and medium-sized panel industry began to invest in OLED, BOE also said 10.5 line is the last with a new LCD investment, it seems that the mainland OLED industry is about to enter the Great Leap Forward stage, as the previous LCD industry rapid growth in general.
According to the Korean media ET News reported that the industry rumors and glow has decided to build 6 small and medium size OLED factory, with a total investment of 27.278 billion yuan, the monthly capacity planning for 30,000, the target 2019 early production.
And 4.5-generation OLED factory has launched a mass production, production capacity of 20,000, this decision to build OLED 6-generation line factory, grab the smart phone and other mobile device market. South Korea equipment industry that, and glow electricity should be in the first quarter of 2017 equipment procurement operations.
Qunchuang is also scheduled to complete the production by the end of 2016 to prepare, plans to start in 2017 flexible OLED panel production, is currently being used for smart phones and automotive samples trial production.
Hon Hai and Sharp Sharp (Sharp) are also preparing for 6-generation OLED production line investment. Hon Hai is expected in 2011 in Guizhou plant, Zhengzhou plant will also produce 6-generation OLED and LCD panel; Sharp announced in Osaka Sakai City, 6-generation OLED production line investment. The Japanese display (JDI) may also start OLED device investment in 2017.
Weixin will start from 2017 Kunshan factory 5.5 generation line of LED production, the monthly production capacity of 10,000. Outside estimates, in 2017 Weixin Connaught will continue to invest in equipment, building monthly production capacity of 30,000 and 25,000 of the 6-generation OLED production line.
OLED investment on both sides of the panel industry may last until 2018. There are still Pegasus, Truly, AUO is assessing investment, mass production of 6-generation OLED possibilities, equipment delivery time about 2018 years.
BOE is also actively preparing to engage in OLED investment. Wang Dongsheng, chairman of the recent recently said it would not be a new investment in LCD equipment, the future will focus on the OLED part. Means that BOE also began to prepare OLED technology research and development and equipment.
BOE has now 6-generation OLED production line (B7) equipment procurement operations, the next step may be 2017 investment in the new B11 production line. As for Huaxing Optoelectronics is thinking about whether in 2018 6-generation OLED production line (T4) equipment investment.
Industry insiders said that the mainland is also slowly think that LCD is the sunset industry, so began to engage in OLED research and development, the accumulation of related technical capabilities, including large size for television and mobile devices for small and medium size OLED panels.
Korean panel factory production of small and medium size OLED panel for nearly a decade, the mainland industry is not easy to catch up in a short time. But there are many foreign top enterprises in order to share the mainland domestic market, have established cooperation with the mainland industry, which is the mainland industry took the opportunity to learn, cultivate talent, and even a direct opportunity to hunter head, so Korean factory or can not be taken lightly.