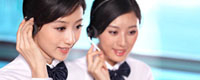 Name: Jessie
Tel: +86-755-27864416
Mobile: +86-18823763597
E-mail: jessie@rxxdisplay.com
Add: 3rd Floor Bldg.11,ChangXing Technical Zone,Wan An Road,Sha Jing town,Ban An district ,Shen Zhen ,GuangDong, China.
Skype: +8618823763597
WeChat: +8615623028461
whatsapp: +8618823763597
QQ: 1610996003





Company News
>> Samsung: will be flexible to adjust the TFT LCD panel capacity 26th,July,2017
Samsung Electronics, the world's largest TFT LCD panel maker, said Thursday that it has decided to adjust panel capacity due to the slippage of TV and monitor demand. In addition, Samsung Electronics executives have revealed that in the face of market oversupply and consumer demand expectations, Reduce the amount of investment in LCD capacity in 2009, showing that this TFT LCD panel manufacturers have been gradually lower response to the market situation.
According to Reuters, Samsung Electronics spokesman James Chung said that in view of weak demand, will be the principle of flexibility to control production capacity, he pointed out that the company has not yet made a big action cut production plan. Samsung spokeswoman is mainly for the previous South Korean media reported Samsung has cut 5% of the argument to respond, but he did not want to elaborate on the details of the elastic cut.
The company reported that the company has reduced its LCD panel production by 5% since August, in response to overcapacity and global demand worsening, but also stressed that the company will be in accordance with market supply and demand To adjust.
According to Yonhap, Lee Sang-wan, head of Samsung's LCD division, also predicted that at least until the first quarter of 2009, the global panel industry will fall into a short tide, and Samsung has lowered its capacity due to market conditions, % Or less. Li said that the LCD sector in 2009 will reduce the capital expenditure, has not yet made a final decision, but will be lower than the 2008 4.5 trillion won (about 3.7 billion US dollars).
However, Samsung's unnamed people pointed out that under the influence of the global recession, panel prices, computer monitor demand weakened, has prompted Samsung to deal with the rising inventory problems, so that inventory balance, cut production will help The global panel market in the short term to balance, but does not mean that Samsung panel business strategy changes.
With the global economic downturn, the current LCD product market is gradually going to a low ebb, consumers for high-priced flat-panel TVs and computer products to buy less. In order to save the panel prices down the trend, and strive to control the supply side, panel makers, including AUO, CMO, LG Display have announced a cut, and now the leading manufacturers Samsung has finally followed the pace of other industry to reduce production capacity.