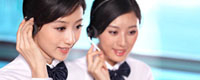 Name: Jessie
Tel: +86-755-27864416
Mobile: +86-18823763597
E-mail: jessie@rxxdisplay.com
Add: 3rd Floor Bldg.11,ChangXing Technical Zone,Wan An Road,Sha Jing town,Ban An district ,Shen Zhen ,GuangDong, China.
Skype: +8618823763597
WeChat: +8615623028461
whatsapp: +8618823763597
QQ: 1610996003





Company News
>> Flexible AMOLED display revenue will go beyond the rigid AMOLED panel 31th,July,2017
Market research firm IHS Markit latest research shows that thanks to continued substantial growth in demand, flexible AMOLED display revenue is expected in the third quarter of 2017 to reach 3.2 billion US dollars, the first over $ 3 billion rigid AMOLED panel.
As many smartphone brands have a flexible AMOLED display used in its high-end product line plan, flexible AMOLED panel revenue is expected to achieve 150% growth in 2016. On the other hand, the current rigid AMOLED panel revenue, which is currently used primarily for mid-range smartphones, is expected to fall by 2% over 2016.
"The smartphone brand believes that the use of flexible AMOLED panels in the latest high-end products will make a distinction with rivals that still use rigid AMOLED displays or LCD displays," said Jerry Kang, chief research analyst at IHS Markit.
"Samsung Electronics and LG Electronics have introduced several flagship smartphones with flexible AMOLED displays since 2013, but are subject to limited panel supply, which has not yet become mainstream, but since 2016, Panel makers have focused on increasing the availability of flexible AMOLED displays and trying to optimize the manufacturing process and to design better panel structures, making flexible AMOLED displays an increasingly popular choice for smartphone manufacturers.
IHS Markit's report, 'AMOLED & Flexible Display Intelligence Service', states that most smartphone manufacturers aim to use flexible AMOLED displays for their own products in 2017, but some of the manufacturers will be subject to High prices and difficult to achieve.
"At present, the manufacturing cost of flexible AMOLED panels is much higher than that of rigid AMOLED panels, but with the increase in manufacturing output, the cost of future flexible panels will drop below the rigid panel," Kang said.