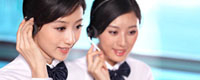 Name: Jessie
Tel: +86-755-27864416
Mobile: +86-18823763597
E-mail: jessie@rxxdisplay.com
Add: 3rd Floor Bldg.11,ChangXing Technical Zone,Wan An Road,Sha Jing town,Ban An district ,Shen Zhen ,GuangDong, China.
Skype: +8618823763597
WeChat: +8615623028461
whatsapp: +8618823763597
QQ: 1610996003





Company News
>> CPT's sixth-generation TFT-LCD production line, the first piece of 5.2-inch products lit success 31th,July,2017
The 6th generation TFT-LCD production line project was completed smoothly. The first 5.2 inch product of the project was lit on March 31, 2017, and the project was built on March 31, 2017. Success, marking the successful product trial production. Follow-up products will continue to provide customers with certification, to be certified after the mass production by customers
Huajia Choi 6th generation TFT-LCD production line project is one of the 2016 billion investment projects, a total investment of 12 billion yuan, the main production to metal oxide (IGZO) TFT-LCD-based small Size display device. Metal oxide technology panel with high electron mobility, low power consumption, high yield and many other advantages, easier to achieve high-resolution, flexible display and other new market demand is the future of high-end display one of the most important panel technology.
Huajia Cai has a number of mature management team and research and development team, master a large-scale TFT-LCD products produced by the system technology, with more than 320 panel patents; in the production line line, equipment installation commissioning, project acceptance, production process debugging , Mass production, quality control, equipment and raw materials procurement and other technical operation and management has a wealth of practical experience. Huajia Cai project since May 9, 2016 plant construction to the first piece of product lit in less than 11 months, its efficiency and experience advantages.
CPT has now formed a liquid crystal module based on both touch components and touch the one-stop product strategic layout. The company said that the future will continue to strive to improve product qualification rate, optimize the process and reduce costs, through the formation of training Huaying its own technical strength and technological innovation system to promote product independent research and development design, product more in line with customer specifications and Quality Assurance.