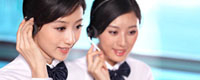 Name: Jessie
Tel: +86-755-27864416
Mobile: +86-18823763597
E-mail: jessie@rxxdisplay.com
Add: 3rd Floor Bldg.11,ChangXing Technical Zone,Wan An Road,Sha Jing town,Ban An district ,Shen Zhen ,GuangDong, China.
Skype: +8618823763597
WeChat: +8615623028461
whatsapp: +8618823763597
QQ: 1610996003





Company News
>> OLED panel output this year will be 21 billion US dollars, an increase of 46% 14th,August,2017
With Apple's new mobile phone, will use the OLED panel, will drive other mobile phone brand factory follow-up, and drive the OLED market will grow rapidly, estimated in 2016 ~ 2021 AMOLED production capacity will be 41% compound annual growth rate , From 5.3 million square meters to 29.4 million square meters.
According to statistics, 2017 OLED revenue will reach 21 billion US dollars, up 46% over 2016, 2021 will reach 46 billion US dollars.
As the current smart phone is still the largest OLED OLED applications, 2017 market share of 86% in 2021 will reach 81%.
As for the second largest application for the OLED TV, and other applications such as smart phones and AR helmet, it is a small market share. If the amount of shipments, smart phones is accounted for 94% of OLED shipments, the second largest and third largest applications, respectively, VR helmet and smart watches.
In addition, OLED TV shipments will reach 6.5 million units in 2021, estimated from 2016 ~ 2021 compound annual growth rate of 49%.
OLED display is currently the most important manufacturers for Samsung Electronics and Apple, estimated in 2018 Apple will account for 38% market share of mobile products, but from 2021 will be reduced to 25%. DSCC expects Apple will continue to invest in Samsung and LG monitors to ensure capacity; after the first quarter of 2018, it is expected that soft OLED will rise and exceed the average hard OLED.
In addition, with China's OLED production capacity, driven by rapid growth in capacity, the annual compound growth rate of 114%, while China's OLED manufacturers AMOLED market share will also be from 2016 to 4% to 2021 Of the 34%.