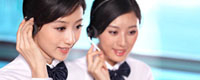 Name: Jessie
Tel: +86-755-27864416
Mobile: +86-18823763597
E-mail: jessie@rxxdisplay.com
Add: 3rd Floor Bldg.11,ChangXing Technical Zone,Wan An Road,Sha Jing town,Ban An district ,Shen Zhen ,GuangDong, China.
Skype: +8618823763597
WeChat: +8615623028461
whatsapp: +8618823763597
QQ: 1610996003





Company News
>> Korea panel factory is committed to expanding the scope of OLED applications 25th,Sep,2017
Samsung Display and LG Display are starting to expand the range of applications for organic light-emitting diode (OLED) markets, although the current production scale in OLED new applications is not significant and is meaningful in entering new markets.
Samsung display began mass production NB with OLED panel, LG Display was originally only LG Electronics (LG Electronics) G Flex supply panel, now also won millet and other external customer phone panel orders.
According to ET News reported that HP (HP) has launched a Samsung display OLED panel with the NB, Samsung display for the product market, with HP to discuss and adjust the panel supply time and shipments. The HP Specter x360 is equipped with a 13.3-inch OLED panel, which is thinner than the general LCD panel NB and weighs only 50 grams.
HP pointed out that the use of OLED panel NB color performance significantly improved. Which NB series to image editing, photos, drawings and other professional purposes, targeting high-end customer base, the price from $ 1,499 take off. In the past, OLED panels were less used in the NB field because of the burning-in phenomenon.
However, with the OLED material technology continues to develop, the relevant issues have been resolved, from 2016 onwards, OLED panels will be gradually applied in the NB and monitor market. In addition, Lenovo and Dell (Dell) has also been published with OLED panels equipped with NB and monitor, is preparing for the listing stage.
LG has tried to focus on the large OLED TV, and now try to enter the screen about 5-inch mobile phone market. LG Display won the mainland millet OLED panel orders to ensure that the first external mobile phone OLED panel customers. The two sides to develop surface display products, is expected by the end of 2016 supply shipments.
In addition to millet, the Korean industry also came out of the gold display will supply Huawei mainland surface display. In addition, the LG display will also supply automotive OLED lighting, and has access to international car manufacturers Audi (Audi) favor.
Although OLED use of organic materials and the existence of life, brightness and other issues, the scope of application is limited, but can provide a better than the LCD panel aesthetic effect. South Korean industry sources, Samsung monitors, LG display for the first time the threshold of the market, although the production is not large, but quite meaningful, the future OLED panel in the application market is expected to gradually increase the proportion.