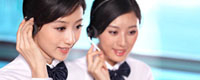 Name: Jessie
Tel: +86-755-27864416
Mobile: +86-18823763597
E-mail: jessie@rxxdisplay.com
Add: 3rd Floor Bldg.11,ChangXing Technical Zone,Wan An Road,Sha Jing town,Ban An district ,Shen Zhen ,GuangDong, China.
Skype: +8618823763597
WeChat: +8615623028461
whatsapp: +8618823763597
QQ: 1610996003





Company News
>> Sony Panasonic hand: OLED panel cost to do LCD half 29th,Mar,2017
Sony, Panasonic released a joint press release on the 25th announced that it will work together to develop next-generation OLED panels for use in TV / large-size displays, and the "printing" next generation OLED technology developed by both parties will be suitable for low-cost production Large size, high-precision OLED panel technology.
According to the Nikkei news report, Sony, Panasonic will jointly develop the "printing technology" is used and the printer "inkjet" the same essential method, in the glass substrate on the uniform coating of red, green and blue organic materials Film, because of the need for large-scale production equipment, and the current mainstream "vapor deposition production technology (the use of high-temperature light-emitting organic materials to make it blown on the panel; Samsung on the use of this technology to produce OLED panels) Can effectively reduce the cost of production. Nikkei pointed out that once Sony, Panasonic can establish the above "printing" OLED panel production technology, you can use the current LCD panel (LCD) about half of the cost of production of large-size OLED panels, and the use of printing technology will also be easy in plastic And an organic material film is formed on a film-like substrate, whereby it is expected to produce an OLED panel having flexibility (flexibility).
Nikkei pointed out that Samsung Electronics and LG Although this year will show the sale of OLED TV, but Samsung used by the "vapor deposition technology (in the glass substrate deposition of red, green and blue organic material)" requires a large vacuum device, so There are still many places in the stability of the demand for improvement (that is not yet established large-size OLED panel production technology); and LG although the use of white organic materials as a backlight production technology, but the use of the technology will weaken the OLED panel With the "thin", "power" and other characteristics.
In addition, in the mass production (production) part of the OLED panel, Sony and Panasonic said it plans to build next generation OLED panel production technology in 2013, and both sides will work together to develop next-generation OLED panels, Aspects of the feasibility of cooperation. According to a number of Japanese media pointed out that the existing liquid crystal panel production line can be converted to OLED panel production line, but even so still tens of billions of yen for the production of equipment to convert, so Sony and Panasonic to complete the "printing Type OLED panel production technology, the estimated will be commissioned by the Taiwan panel manufacturers Daodong OEM production OLED panel; Sony has been working with AUO R & D OLED panel.