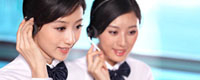 Name: Jessie
Tel: +86-755-27864416
Mobile: +86-18823763597
E-mail: jessie@rxxdisplay.com
Add: 3rd Floor Bldg.11,ChangXing Technical Zone,Wan An Road,Sha Jing town,Ban An district ,Shen Zhen ,GuangDong, China.
Skype: +8618823763597
WeChat: +8615623028461
whatsapp: +8618823763597
QQ: 1610996003





Company News
>> TFT-LCD LCD panel overcapacity nightmare come again 10th,Oct,2017
Market research firm WitsView for the global large-size TFT-LCD panel capacity development trend observed that from 2014 to 2015, the world is expected to have 6 to 8 8.5 generation line into the mass production stage, which may make TFT-LCD LCD panel industry oversupply nightmare come again. Panel factory how to respond, will affect the next wave of power growth (market changes).
On the other hand, it is worth noting that this wave of new production capacity is almost concentrated in China, which will make China's domestic panel self-sufficiency rate continues to increase, when the Chinese official is bound to review the issue of panel import tariffs, Plant factory in terms of Taiwan, will be a big worry.
According to the WitsView survey, from 2014 to 2015, the world is expected to have 6 to 8 8.5 generation line into mass production. Among them, in 2014 will add three 8.5 lines, respectively, Samsung Vision (SDC) Suzhou plant, BOE (BOE) Hefei plant, and LG Display (LGD) Guangzhou plant, estimated that the global 8.5 generation line production capacity will be An increase of about 12.4% over 2013, while the global panel capacity will expand to 204.4 million square meters per month, will also increase by 5.3% over 2013.
WitsView research manager Fan Bo Yu said that the new capacity increase panel will make the TFT-LCD industry there are several possible development direction. First, the new production capacity concentrated in 8.5 on behalf of the line, which means large-size panel supply capacity will be greatly improved, the price pressure is inevitable. At the same time, the panel plant will continue to develop new profitability products, such as 48-inch and 49-inch panels, to replace the original market mainstream 46-inch and 47-inch panel.
In addition, the product mix between different generations of the line will also be more obvious. For example, the panel capacity below the 6-generation line will be expanded for the production of small and medium size panels, as well as 8.5-generation line capacity will continue to increase in the flat-panel computers, notebook computers and other IT applications, the proportion of production.