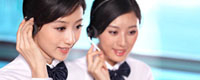 Name: Jessie
Tel: +86-755-27864416
Mobile: +86-18823763597
E-mail: jessie@rxxdisplay.com
Add: 3rd Floor Bldg.11,ChangXing Technical Zone,Wan An Road,Sha Jing town,Ban An district ,Shen Zhen ,GuangDong, China.
Skype: +8618823763597
WeChat: +8615623028461
whatsapp: +8618823763597
QQ: 1610996003





Company News
>> Wonderful photoelectric: LED backlight LCD panel integration patented technology CMDI began mass production 14th,Oct,2017
(HIMX-US) Integrated patented technology CMDI (Cascade Modulated Driver Interface) LCD panel, has been through several North American notebook computer manufacturers strict certification, access to Mass production stage.
CMDI technology for LED backlight for the LCD panel to help notebook computer manufacturers to introduce more thin LED notebook computer to enhance the fashion sense and added value.
On the NB with LED backlight, the CMDI technology can be used to integrate the LCD circuit board with the LED driver board into a small piece, placed on the lower edge of the LED NB panel, without having to bend the LCD circuit board as before Panel rear to reduce panel thickness.
CMDI technology will be the original by the circuit board and the soft board transmission control signals, and power path by the panel glass transmission, and the source driver IC (Source Driver IC) to use COG (Chip on Glass) structure to series The way to transfer the signal between the source driver IC, effectively reduce the area of ​​the circuit board and the soft board for manufacturers to save the cost of circuit boards and soft board, so that the entire panel module becomes lighter and thinner, conducive to industrial design and enhance product value The
In the transmission interface, the wonders use the DETTL (Dual Edge TTL) interface as the communication interface between the Timing Controller and the source driver IC. The DETTL interface can reduce the voltage used by NB to 1.8V, significantly lower At the current RSDS / mini-LVDS interface 2.5V ~ 3.3V voltage.
In addition, CMDI technology uses a unique design of bilateral control technology, can support up to the current NB panel the highest level of 1920x1200 resolution.
About Wonderland Optoelectronics
Wonderful Optoelectronics is a professional driver IC design company specializing in the development, design, manufacturing management and sales of integrated circuits for flat-panel displays of various TFT-LCD applications. The use of its range of products covered by mobile phones, digital cameras, digital cameras, automotive monitors, handheld DVD players, notebook computers, LCD monitors, and LCD TVs and so on. Development of TFT LCD driver ICs and other display products related applications such as TFT LCD driver for SRAM and Liquid Crystal On Silicon (LCOS) and digital LCD TV chipset The