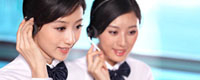 Name: Jessie
Tel: +86-755-27864416
Mobile: +86-18823763597
E-mail: jessie@rxxdisplay.com
Add: 3rd Floor Bldg.11,ChangXing Technical Zone,Wan An Road,Sha Jing town,Ban An district ,Shen Zhen ,GuangDong, China.
Skype: +8618823763597
WeChat: +8615623028461
whatsapp: +8618823763597
QQ: 1610996003





Company News
>> OLED so that domestic LCD panel manufacturers such as awn in the back 29th,Mar,2017
The industry believes that once the OLED high cost barriers to be broken, then its large-scale development trend will be unstoppable, LCD TV industry will be a strong impact, its market share will be reduced faster than people think Research firm data show that when the OLED TV prices fell to 1.3 to 1.4 times the price of LCD TVs, consumers will choose to buy OLE TV.
OLED TV in the end to the TV industry can cause much impact, which depends entirely on the progress of OLED technology itself, but OLED as the next generation of TV display technology leader position has been unshakable.
For a domestic billions of RMB LCD production line, the BOE, Huaxing photoelectric 8.5-generation LCD LCD panel production line last year to achieve mass production, and the international panel giant has targeted a new generation of display technology OLED, and 10 years ago, China just The layout of the CRT industry chain is very similar. Domestic LCD panel manufacturers do not do the technical conversion update, the future will once again be subject to people, suffered heavy losses.