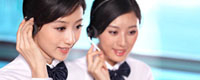 Name: Jessie
Tel: +86-755-27864416
Mobile: +86-18823763597
E-mail: jessie@rxxdisplay.com
Add: 3rd Floor Bldg.11,ChangXing Technical Zone,Wan An Road,Sha Jing town,Ban An district ,Shen Zhen ,GuangDong, China.
Skype: +8618823763597
WeChat: +8615623028461
whatsapp: +8618823763597
QQ: 1610996003





Company News
>> According to Anda Electronic debut mobile phone exhibition spearhead extension to the next mobile phone manufacturing base
Recently, Reanda Electronic participated in Chongqing International Mobile Phone Industry Automation Manufacturing Exhibition. It is reported that this exhibition, according to Renda Electronics see the market mainstream PCB products, exhibitors include high-end market, smart phones, tablet PCs, network terminals, automotive electronics, industrial control, consumer electronics, any layer of high-density interconnect products.
According to the mobile newspaper online understanding, according to Anda Electronic (Kunshan) Co., Ltd. is a specialized in the production of high-density interconnect printed circuit boards of high-tech enterprises, is Kingboard Chemical Group (Hong Kong listed company), a wholly-owned subsidiary. Its production lines are targeted at mid-to-high end markets such as cell phones, tablets, network terminals, etc., capable of producing HDI or Anylaye interconnects arbitrarily throughout the manufacturing process. The company is equipped with fully automated and semi-automatic equipment with a production capacity of 100,000 square meters of HDI.
As of now the company revenue has more than 700 million yuan, one of the technical strength, the customer support behind is also a major factor. Check found that as early as 2015, Electrolux electronic won the Shanghai Hua Qin Communications Technology Co., Ltd. 10 anniversary of the title of outstanding suppliers. This is enough to prove the quality of the product.
According to Anda Electronic since its establishment in 2007 all the way triumph to open up the Chinese market. At present, according to Anda Electronic has a place in Guangdong and East China, the pace of expansion has not stopped. The active participation in Chongqing Mobile Phone Fair is the best proof.
In 2017, Chongqing seized the market demand of mobile terminals and actively built smart terminal industries integrating operators, brand names, foundries and distributors. According to the news, at present, Chongqing has 87 mobile phone manufacturers and mobile phone facilities 185 enterprises, initially formed a complete machine, cameras, motherboards and other parts production and product testing, supply chain services as one of the mobile phone industry.
"Chongqing has become the world's second-largest mobile phone production base," as if has been formed, the exhibition Chongqing exhibition, is also based on Anda electronic acceleration product promotion and deepen the layout of important initiatives. According to Li Anda electronics stakeholders, Chongqing next will certainly become a huge mobile phone manufacturing base, for our mobile phone motherboard manufacturers, is a very good opportunity, but also very suitable for the company's long-term development plan, of course, do not rule out the construction of the Mainland Factory possibility.
More importantly, of course, manufacturing projects in Chongqing are not limited to handsets. They also involve computers, industrials, medical, artificial intelligence, robots and many more. These areas are also similar to those for Rexroth Electronics Opportunity.
Overall, manufacturing in Chongqing is attracting a large number of manufacturing industries. I believe that in the next few years, Chongqing's manufacturing industry will bring more satisfactory answers.