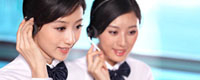 Name: Jessie
Tel: +86-755-27864416
Mobile: +86-18823763597
E-mail: jessie@rxxdisplay.com
Add: 3rd Floor Bldg.11,ChangXing Technical Zone,Wan An Road,Sha Jing town,Ban An district ,Shen Zhen ,GuangDong, China.
Skype: +8618823763597
WeChat: +8615623028461
whatsapp: +8618823763597
QQ: 1610996003





Company News
>> CIGNA: flexible AMOLED screen capacity is about to explode
With the development of science and technology, the era of flexible display has been gradually approaching. People's living standards of consumption gradually increased, the demand for smart products from powerful and good quality, and gradually shifted to both the quality of the United States also need to look good on the United States. OLED as a new generation of display technology to enhance people's visual enjoyment, but also promote the great changes in product form.
Recently, as a well-known manufacturer in the field of OLED in the world, Visionox brought more than 100 innovative technologies, products and industrialization achievements to its booth at the 2017 High-tech Fair. These products and achievements not only represent the most cutting-edge science and technology in the field of OLED in the world, but also interpret the historic mission of OLED innovation and development of the industry. The Visionox is the theme of "Flexible Future", focusing on the "Flexible Display" of OLEDs, which has the most core advantages. Among them, the International Standard for Flexible Display, which represents international competitiveness, In front of the cool and flexible AMOLED display and dozens of applications Vissano OLED display terminal products debut, it is from Verizon's strength in innovation and technology to the accumulation of industrialization, and then to the end market application of a " Flexible show feast."
Universal Science and Technology reporter witnessed Vistano innovative flexible AMOLED technology, dual-screen mobile phones, e-books, smart speakers, smart jewelry boxes and other smart terminal products in the Visiono booth, the novel shape and experience also allow visitors to have a Stop watching.