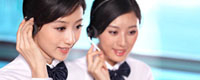 Name: Jessie
Tel: +86-755-27864416
Mobile: +86-18823763597
E-mail: jessie@rxxdisplay.com
Add: 3rd Floor Bldg.11,ChangXing Technical Zone,Wan An Road,Sha Jing town,Ban An district ,Shen Zhen ,GuangDong, China.
Skype: +8618823763597
WeChat: +8615623028461
whatsapp: +8618823763597
QQ: 1610996003





Company News
>> Samsung electronic LCD panel sales for 21 consecutive months to dominate the world 31th,Mar,2017
Samsung's LCD panel sales for January this year were $ 1.255 billion, up 5% from $ 1.198 billion in December, according to the January 2007 global LCD panel makers' sales report, which was released today. The same period of 1.108 billion US dollars, an increase of 13%, and has 21 years to dominate the world. In addition, Samsung Electronics in the large panel sales also to 1.11 billion US dollars crown.
Samsung Electronics pointed out that due to large-scale widescreen display and 40-inch TV panel sales increased, making the overall sales area growth, and large-scale products and higher than the market average ASP (average selling price), so sales will continue increase. Samsung Electronics in January this year, a large panel ASP 216 US dollars, 165 US dollars than the global LCD market, about 30% higher.
In terms of countries and regions, South Korea's LCD panel sales in January this year was $ 2.23 billion, up 7.6% from $ 2.073 billion in December, compared with $ 1,898 million in China's Taiwan region, compared with $ 2,023 million in December The dollar, the recession of 6.6%, the gap between the two sides from 410,000 US dollars, expanded to 332 million US dollars.