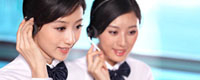 Name: Jessie
Tel: +86-755-27864416
Mobile: +86-18823763597
E-mail: jessie@rxxdisplay.com
Add: 3rd Floor Bldg.11,ChangXing Technical Zone,Wan An Road,Sha Jing town,Ban An district ,Shen Zhen ,GuangDong, China.
Skype: +8618823763597
WeChat: +8615623028461
whatsapp: +8618823763597
QQ: 1610996003





Company News
>> GIS net profit in 2017 amounted to 6.964 billion NT dollars record high
According to the data, the net profit of touch panel maker Intel Technology (GIS) in the fourth quarter of 2017 was NT $ 2,108 million (US $ 68.63 million), down 22.47% sequentially and up 24.05% from the previous year.
Earnings per share for the quarter was 5.95 NT, compared with 7.63 NT last quarter.
The full year 2017 net profit reached 6,964 million Taiwan dollars, an increase of 140.02%, a record high; full-year EPS was 21.46 NT, in line with market expectations.
Gross profit in 2017 was 11.53%, up from 11.35% last year.
Revenue for February 2018 was NT $ 55.3 billion, down 40.55% quarter-over-quarter and 10.56% year-on-year. In the first two months of 2018, revenue reached NT $ 14,832 million, an increase of 27.88% over the same period of last year.
According to industry estimates, due to seasonal reasons, GIS revenue in the first quarter of 2018 is expected to drop 40% from NT $ 4,627.7 million in the previous quarter.