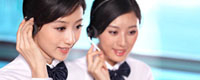 Name: Jessie
Tel: +86-755-27864416
Mobile: +86-18823763597
E-mail: jessie@rxxdisplay.com
Add: 3rd Floor Bldg.11,ChangXing Technical Zone,Wan An Road,Sha Jing town,Ban An district ,Shen Zhen ,GuangDong, China.
Skype: +8618823763597
WeChat: +8615623028461
whatsapp: +8618823763597
QQ: 1610996003





Company News
>> LCD panel manufacturers CPT in mid-November to stop 4.5G panel production 7th,Apr,2017
It is reported that the famous LCD panel maker Taiwan CPT (Chunghwa Picture Tubes) will be the end of November to terminate the production of 4.5G factory, mainly because of weak demand for smart phone panels and mobile phone panel overall price decline.
CPT has two 4.5G panel plants, which initially focused on one of the smartphone panel production plants will be closed. Due to intense competition and overall price decline, CPT's profits have been greatly affected, and losses are expected to continue until the end of 2015.
In order to reorganize its panel business and reduce operating costs, CPT that stop the factory production is the most appropriate way. The future of the company will improve the production of niche products to meet market demand.
CPT's move is expected to be completed by January 2016 in order to sell its 4 G equipment to its subsidiary, Giantplus, for $ 1.8 billion ($ 55.5 million).
The plant 880 mm substrate to reduce the 680, the monthly capacity of 60,000 substrates. Ling said the company will continue to produce CPT the same display, the display products will cover automotive, industrial, printing and camera applications and other fields, so CPT factory customer base will not be affected