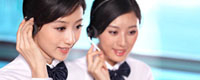 Name: Jessie
Tel: +86-755-27864416
Mobile: +86-18823763597
E-mail: jessie@rxxdisplay.com
Add: 3rd Floor Bldg.11,ChangXing Technical Zone,Wan An Road,Sha Jing town,Ban An district ,Shen Zhen ,GuangDong, China.
Skype: +8618823763597
WeChat: +8615623028461
whatsapp: +8618823763597
QQ: 1610996003





Company News
>> LCD production process of LCD panel embedded in mainland China is not as expected 26th,March,2018
The FPD China 2014 exhibition was held in Shanghai. The main LCD exhibitors were the same as in 2013. They were BOE, Tianma Microelectronics and China Star Optoelectronics. It was observed that the LCD panel manufacturers in mainland China were in In-Cell/On-Cell with high technical difficulty. The mass production progress of in-cell touch panels is not as good as expected. On the other hand, in technologies such as carbon nanotubes, graphene, metal grids, and nanosilver wires that are emerging technologies, although the technology is not yet mature, many mainland manufacturers are still active. In the direction of mass production.
Analyze the display content of LCD panel manufacturers in the field of touch panel, and the main differences with 2013 include: In 2014, BOE did not exhibit any projected capacitive touch panel, only exhibited eye-control display in cooperation with Swedish company Tobii. Tianma Microelectronics emphasizes the mass-produced In-Cell/On-Cell in-cell touch panel, which is supplemented by industrial projected projected capacitive touch panels that have been in production for many years. In 2013, touch panel related products were not exhibited. China Stars has exhibited a 32-inch single-glass (OGS) projected capacitive touch panel.
Although FPD China 2014 opened the touch panel area for the first time, it did not exhibit any major touch module factory. Only Guangdong Touch and Application Industry Association and small touch IC maker Betterlife and Hanchang Mingjing Electronics, etc. participate in the exhibition of touch-control module products, and are all emerging technologies that are not yet mature, such as carbon nanotubes, graphene, metal grids, and nano-silver wires. DIGITIMES Research believes that the touch panel of the graphene film will continue to be limited to white-brand smart phone applications in the short term, and the carbon nanotube technology will have more opportunities for promotion to the mainstream market.
In the exhibition of touch panel related components and components, there were some differences between the three international glass manufacturers participating in the 2013 FPD China: Schott, AGC, and NEG. In 2014, only one international glass manufacturer from NEG participated in the exhibition alone, still emphasizing its long-developed technologies such as ultra-thin glass, tempered glass and resin-bonded glass. However, its practicality has been stronger than that of 2013. DIGITIMES Research has found that it is currently mainly in Taiwan. The touch panel factory uses its ultrathin glass to mass-produce touch panels, which can combine the thinness of thin film touch panels with the environmental resistance of glass touch panels. On the whole, FPD China 2014 demonstrated the mainland industry's attempts and the development capabilities of diversified emerging technologies in touch panel-related display content. Follow-up development deserves attention.
. BOE Touch related exhibit only 1 15 inch eye control panel; Tianma Microelectronics exhibited a 5 inch HD (1,280×720) In-Cell in-cell touch panel, and 4.3 inch to 5.5 inch range The On-cell in-cell touch panel, as well as a number of external projected capacitive touch panels for industrial and automotive applications, while China Star displayed a 32-inch OGS touch panel.
In the absence of major touch panel makers, nanometer carbon nanotube touch panel maker Beijing MicronStar Source and graphene film maker Chongqing Mexitech displayed their mass-produced mobile phones at the Guangdong Touch and Application Industry Association booth. Carbon nanotubes and graphene touch panels are used, but because these technologies are not yet mature, shipments are not large.
Hanchang Mingjing Electronics exhibited its 42-inch nano silver thin film touch panel and 21.5-inch metal grid thin film touch panel, the former being in cooperation with LGE, using nano silver developed by Cambrios Line technology; the latter is in cooperation with Korean plant MNTech.
.NEG is the only manufacturer of touch panel-related glass materials at FPD China 2014. Although the main technical cores have been exhibited for many years, its protective glass has been adopted by major mobile phone and tablet computer makers, and touch panels produced by ultra-thin glass have been used. The panel has also been mass-produced and its practicality is higher than in previous years.
. 2013 FPD China BOE and Tianma exhibited in-cell touch panels that were still in the R&D stage.
In 2014, Tianma exhibited only In-Cell and On-Cell in-cell touch panel products.
In 2014, BOE did not exhibit such panels because the in-cell touch panel has entered the mass production stage. However, it still only sends samples to terminal manufacturers. It will take a while before the large-scale promotion can be realized.
In 2013 BOE displayed 13.3-inch OGS touch panel, but in 2014, 32-inch OGS touch panel was exhibited by China Star Optoelectronics. This panel is made by the Taiwanese company Ruiya Touch IC, which can be touched by 10 points. However, it is currently produced on the experimental line and there is no mass production plan.
The only touch-related application exhibited by BOE in 2014 was the eye control panel with Sweden's Tobii, but no breakthrough applications were exhibited.
Myung Info Tech exhibited its 42-inch nanosilver film touch panel and 21.5-inch metal mesh film touch panel.
Among them, the nanosilver film raw material is manufactured by LG and uses the nano silver wire technology developed by Cambrios.
The metal mesh film was produced by MNTech, a Korean factory, and the invisibility of the mesh was excellent.