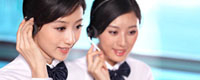 Name: Jessie
Tel: +86-755-27864416
Mobile: +86-18823763597
E-mail: jessie@rxxdisplay.com
Add: 3rd Floor Bldg.11,ChangXing Technical Zone,Wan An Road,Sha Jing town,Ban An district ,Shen Zhen ,GuangDong, China.
Skype: +8618823763597
WeChat: +8615623028461
whatsapp: +8618823763597
QQ: 1610996003





Company News
>> OLED panel demand 夯 South Korea's material manufacturers expand production by 60% 4th,Apr,2018
Global OLED material maker Idemitsu Kosan Co. released a press release after the Japanese stock market on the 8th. It is announced that smart phones and large-size TVs have adopted OLED panels in recent years, and it is estimated that OLED panels will be further popularized in the future. The use of automotive displays and other applications has driven the demand for OLED materials, so it has decided to increase investment in the OLED material plant owned by 100% of its subsidiary "Ikoko Electronic Materials South Korea" and will increase the annual production capacity of OLED materials in South Korea from the current 5 tons. Up to 8 tons.
Shuguang Xingchan pointed out that the above-mentioned production increase project will start this month (December 2016), and is expected to be completed in the first half of 2017. After completion of the above-mentioned production increase project, the annual output of the entire OLED material will be 7 tons. A substantial increase of 40% (43% increase) to 10 tons.
Ikko Kogyo's OLED material plant in Omaezaki, Shizuoka Prefecture, Japan was completed in April 2007 with an annual production capacity of 2 tons. Then in October 2011, Ikko Electronic Materials Korea was established in South Korea to supply various OLED materials to the world. OLED panel factory.
According to the offer of the Castrol XQ Global Winner System, Idemitsu rose 1.78% to close at 2,972 yen on the 8th, a record high for nine years (December 26, 2007).
Korean media etnews reported that Samsung sprinted OLED smart panel sales, and its panel maker Samsung Display will increase hard OLED production capacity. The industry estimates that the production of hard OLEDs for the A2 plant will increase from the current monthly production of 180,000 wafers to the production of 190,000 wafers per month next year.
Ubi Research estimates that the use rate of OLEDs in the world will increase year by year, from 16% in 2016 to 23% in 2017. In 2020, OLED will account for more than half of the smart machine market, reaching 54%. In addition, Ubi expects that flexible OLED will gradually become popular. In 2021, 70% of OLED smart panel is a flexible panel.
The Japanese smart phone evaluation site sumahoinfo reported on November 24 that AppleInsider reported that Kelvin, a well-known analyst who has repeatedly predicted the trends of Apple products, said that the iPhone expected to be launched in 2017 may have iPhone 7s and iPhone 8 Two versions, a total of three models, are the iPhone 7s with a 4.7-inch LCD screen, the iPhone 7s Plus with a 5.5-inch LCD screen, and the iPhone 8 with an OLED panel (between 5.1-5.2 inches in size).
The Wall Street Journal (WSJ) reported on November 28th that Apple may launch its iPhone with a curved screen as quickly as possible in 2017. According to a number of suppliers that have relationships with Apple, they have been asked to increase production of thin OLED panels. Was asked to provide a higher-resolution test piece than Samsung's OLED panel, in the hope of making a difference with Samsung's Galaxy smartphone.
Japan's Apple's intelligence website iPhone Mania reported on Patently Apple's report on November 29 stating that due to estimates that Apple's iPhone 8 will start selling OLED panels in 2017, leading to insufficient OLED panel supply, China's smart phone makers will Organize OLED alliances to ensure the supply of OLED panels. Huawei and VIVO, OPPO parent company BBK, and Royole, a flexible OLED panel startup, will form an alliance to invest in flexible OLED panels in 2017.
It is reported that BBK has set up a flexible OLED panel company MGV. According to sources in the industry, MGV may construct a production capacity of 60,000 OLED panels per month between 2017 and 2019. In addition, Royole also expects to The production capacity of 45,000 OLED panels per month during 2017-2018.