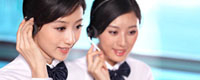 Name: Jessie
Tel: +86-755-27864416
Mobile: +86-18823763597
E-mail: jessie@rxxdisplay.com
Add: 3rd Floor Bldg.11,ChangXing Technical Zone,Wan An Road,Sha Jing town,Ban An district ,Shen Zhen ,GuangDong, China.
Skype: +8618823763597
WeChat: +8615623028461
whatsapp: +8618823763597
QQ: 1610996003





Company News
>> Zhang Deqiang: OLED "unbounded" development will become a 100 billion industry 11th,Apr,2018
On April 8-11, the 2018 annual meeting of the Boao Forum for Asia was officially held. Dr. Zhang Deqiang, President of Visoxon, said in an interview with the customer's blog Boao that the OLED industry needs partners to work together "without boundaries" and is expected to become a 100 billion-class industry.
Zhang Deqiang said that OLED display can be thin enough to fold, but it also requires the cooperation of fingerprint technology under the screen, but also the need for touch screen, cover foldable, which requires OLED manufacturers and partners to work together "unbounded" cooperation Together to meet the needs of consumers.
He believes that there are two pillar industries in the electronic information industry. The first is semiconductors, and the second is display industry. Among them, the most promising and most promising technology is OLED technology. "In the future, it will become one of the 100 billion yuan. industry."
Zhang Deqiang believes that the current technological revolution has been different from previous technological revolutions and has shown a diversity of features.
"The technological revolution that we are currently undergoing is not like the mechanization, electrification and automation that were very simple in the past. Now we have presented the diversified features of intelligence, digitization, platformization, and even visualization." Zhang Deqiang said that visual recognition and visualization It is a very important means of information exchange and will greatly improve people's lives.
Zhang Deqiang believes that a technology from the laboratory to the product, on the one hand requires research funding, capital investment, and more importantly, it takes time to invest.
"Taking OLED technology as an example, our team has been focusing on this technology for 22 years, and this technology has proved scientifically feasible in the lab from the very beginning, to the emergence of an economically valuable commodity, and in the middle to overcome a lot of This is a challenge."
Zhang Deqiang said that the first phase of innovation in core technology must focus on innovation in basic research, which means that scientific principles are impassable; the second phase is to respect a process of transformation from technology to products, and transform scientific research results into industrialized ones. stage.
Zhang Deqiang's prospects for the development of OLED display technology are quite promising. "The OLED screen can be as thin as paper, and it can be curled freely, and it can be folded. In the future, the TV can be hung on the wall. When it is seen, it can be put down. When it is not seen, it can be rolled up. The mobile phone may also fold and open. Is a computer, a PAD, and a mobile phone together."