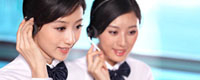 Name: Jessie
Tel: +86-755-27864416
Mobile: +86-18823763597
E-mail: jessie@rxxdisplay.com
Add: 3rd Floor Bldg.11,ChangXing Technical Zone,Wan An Road,Sha Jing town,Ban An district ,Shen Zhen ,GuangDong, China.
Skype: +8618823763597
WeChat: +8615623028461
whatsapp: +8618823763597
QQ: 1610996003





Company News
>> Three major mainstream LCD panel application market in June is the first growth momentum 8th,Apr,2017
According to iSuppli, shipments of large-size thin-film transistor liquid crystal display (TFT-LCD) panels reached 47.1 million units in June, up 9% from May and 26.2% from the same period last year. This is the first three months of year-on-year growth in TV, notebook and desktop computer monitors.
Growth was mainly from televisions and laptops, at 9.2% and 9.1% respectively. Followed by the display panel, followed by 8.3%. As the major manufacturers began to prepare for the upcoming sales season - that is, fall admission and Christmas - according to previous data, panel shipments in July will continue to rise. However, due to various reasons, such as the continued shortage of glass, and the recent earthquake in Japan damaged Corning glass melting furnace, affecting the supply of glass for the eighth generation of Sharp, which may lead to tight panel supply.
In the second quarter of 2009, global large-size LCD panel shipments rose 43% from the first quarter, up 12% from the second quarter of 2008. This should be attributed to the global economic upturn, the Chinese market demand, the introduction of new models, to 16: 9 panel changes, and the increasing use of LED backlight technology. Demand surge and tight supply led to the mainstream large-size LCD panel prices from March to June rose 20% to 25%.
Rising prices have caused panel suppliers to get rid of losses due to lower prices than cost, so that these panels in the second quarter at the end of the loss to win. Panel demand remained strong in July. Buyers expect panel prices to rise sharply in July, so they are willing to buy additional panels in bulk. August panel demand is still very busy, for many reasons, including the Christmas season to prepare, and fear of glass shortages caused by further tightening of the supply of the panel. Panel demand for the third quarter of 2009 will continue to be strong.
Figure 6 shows iSuppli's forecast for monthly shipments of large-size TFT-LCD panels worldwide from January 2009 to June 2009