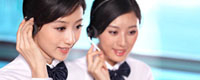 Name: Jessie
Tel: +86-755-27864416
Mobile: +86-18823763597
E-mail: jessie@rxxdisplay.com
Add: 3rd Floor Bldg.11,ChangXing Technical Zone,Wan An Road,Sha Jing town,Ban An district ,Shen Zhen ,GuangDong, China.
Skype: +8618823763597
WeChat: +8615623028461
whatsapp: +8618823763597
QQ: 1610996003





Company News
>> OLED production capacity by Apple Samsung partition for the OLED panel out of stock 10th,Apr,2017
According to foreign media reports, in recent years, OLED screen gradually popular, manufacturers want to use it as a new selling point of their own machines, but because of limited capacity, want to use OLED screen must rely on "grab." This year, iPhone 8 will be facelift OLED screen, in front of the silver bullet, Samsung to Apple to prepare 75 million OLED screen, and the other hand, Huawei, this year only 8% of the equipment can use OLED screen, which will seriously damage its high-end products Of the market competitiveness.
DigiTimes data show that 2017 and 2018 two years in the world production of OLED screen 70% are on the Apple and Samsung's production line. Affected by this, other manufacturers can only slow down the original plan, return to the embrace of the LCD screen.
This year, Apple will get 75 million OLED from the Samsung OLED screen, accounting for 14% of the annual OLED screen capacity. As the only OLED screen manufacturer and the world's largest smartphone maker, Samsung will consume 56% of the world's OLED screen. As the early adopters of OLED screen manufacturers, OPPO and vivo will get 13% and 10% of the OLED screen.
See OLED screen to bring new business opportunities, the screen suppliers have accelerated the progress of LG next year will ship their own OLED screen, BOE OLED screen will also be officially listed in 2020.
Last December, JDI received a $ 636 million bailout from the Japanese government-backed investment company, part of which was used to buy OLED company Joled, but when JDI was able to ship OLED screens was still unknown. In addition, Apple's old partner Foxconn in the acquisition of Sharp is also increasing the OLED screen research and development efforts.
As the production capacity is limited, Apple fully embraced OLED screen to spend several years, so this year can only use the OLED screen only iPhone 8.