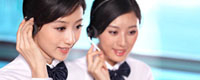 Name: Jessie
Tel: +86-755-27864416
Mobile: +86-18823763597
E-mail: jessie@rxxdisplay.com
Add: 3rd Floor Bldg.11,ChangXing Technical Zone,Wan An Road,Sha Jing town,Ban An district ,Shen Zhen ,GuangDong, China.
Skype: +8618823763597
WeChat: +8615623028461
whatsapp: +8618823763597
QQ: 1610996003





Company News
>> TCL Group's Big Screen LCD Advantages Accelerated Layout Printing OLED
On June 13th, TCL Group stated on the interactive platform that the company will continue to maintain its competitive advantage in large-screen LCDs, and actively deploy technology development for large-screen printing OLEDs.
In addition, the company's Wuhan t3 plant has a designed capacity of 30,000 glass substrates/month. Currently, its production capacity has steadily increased, and the yield rate has reached a relatively high level. It continues to increase sales of first-tier brand customers and continues to develop new customers.
On June 12, 2018, after 13 months of hard work, the TSMC Group's China Star Optoelectronics High Generation Module Project was successfully put into operation. The production ceremony was held in the TCL Group Module Integrated Intelligent Manufacturing Industrial Park in Zhongfu District, Huizhou City.
As the world's highest generation module production line project, China Star Optoelectronics High Generation Module Project is Shenzhen Huaxing Optoelectronics G11 and G8.5 supporting factories. It is also an important measure for TCL Group to actively optimize the industrial structure and realize the integrated development of the upstream and downstream industries of the LCD industry. .
Huaxing Optoelectronics CEO Jin Shuzhi said that the completion of high-generation modules can quickly respond to customer needs, realize integrated production of modules, shorten order cycle and material distance, improve supply chain efficiency, and enhance TCL Group TV upstream and downstream industry competitiveness. In the future, TCL will make this project the most advanced and most efficient module production line in the world.
According to Li Dongsheng, chairman and CEO of TCL Group and chairman of China Star Optoelectronics, the high-generation module project was successfully put into production at a construction rate of 13 months, which is closely related to the support of governments at all levels. At the same time, Li Dongsheng solemnly promised that TCL Huaxing will uphold the purpose of creating value for the society, go all out to promote the construction of the project, make economic development for Huizhou, develop the electronic industry in China, and also make TCL realize the goal of globalized operation. contribution.