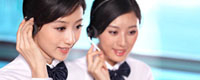 Name: Jessie
Tel: +86-755-27864416
Mobile: +86-18823763597
E-mail: jessie@rxxdisplay.com
Add: 3rd Floor Bldg.11,ChangXing Technical Zone,Wan An Road,Sha Jing town,Ban An district ,Shen Zhen ,GuangDong, China.
Skype: +8618823763597
WeChat: +8615623028461
whatsapp: +8618823763597
QQ: 1610996003





Company News
>> Talking about Samsung Galaxy 10 Large Screen Brings Different Experiences
As we all know, when Samsung introduced the first GALAXY S mobile phone in 2010, it adopted a single model upgrade strategy. However, starting in 2015, with the simultaneous launch of the GALAXY S6 and GALAXY S6 edge models, the Samsung GALAXY S series dual flagship approach has continued to this day. Although the Samsung Galaxy 10 will not be officially unveiled until next spring, many people have already revealed some news about the Galaxy 10.
It is reported that the Samsung Galaxy S10+ will use a 6.4-inch display screen. It should be known that the Samsung Galaxy Note8 mobile phone is only equipped with a 6.3-inch screen. This means that the Samsung Galaxy S10+ has a larger screen, perhaps Samsung is in full screen. The design has taken another step.
Samsung's next-generation flagship Galaxy S10 will have three versions with internal codenames: Beyond 0, Beyond 1, and Beyond 2. The Samsung S10 will use a 4K-class AMOLED curved screen, equipped with the previously exposed Qualcomm Snapdragon 855 processor, equipped with a 6GB + 128GB storage combination, while the top is 8GB + 512GB. In terms of photographing, it is 12 million pairs of rear photography, supporting 3D photography, and front-mounted 8 million F/1.6 large aperture lens.
Samsung Galaxy S10 and Galaxy S10+ will be the most anticipated Android smartphones next year, and Samsung should make a lot of reforms on the Galaxy S10. So we will see a very beautiful new flagship, and if it really looks like the exposure, then it is really worth it. Samsung's next flagship is now confirmed to be Galaxy Note 9, will be officially launched on August 9. Please also wait and see!