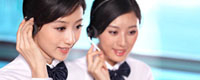 Name: Jessie
Tel: +86-755-27864416
Mobile: +86-18823763597
E-mail: jessie@rxxdisplay.com
Add: 3rd Floor Bldg.11,ChangXing Technical Zone,Wan An Road,Sha Jing town,Ban An district ,Shen Zhen ,GuangDong, China.
Skype: +8618823763597
WeChat: +8615623028461
whatsapp: +8618823763597
QQ: 1610996003





Company News
>> Fujian's first flexible display research center will be completed by the end of this month
It is reported that the first flexible display research center in Fujian, Huaying Flexible Display Innovation Research Center Laboratory will be completed at the end of this month (end of August). This is another typical case of Mawei District this year to vigorously promote technological transformation and incite industrial transformation and upgrading.
As an established company in Mawei District, Huaying Technology (Group) Co., Ltd. previously produced large-scale desktop displays. With the change of market strategy, it gradually turned to the production of small and medium-sized displays such as mobile phones and tablets.
It is understood that Mawei District has issued the "four measures to support the technological transformation of Mawei District" to help enterprises technological transformation and promote economic development transformation and upgrading. The relevant person in charge of the Mawei District Economic and Trade Bureau said that the special supporting subsidy funds for the provincial and municipal technological transformation projects were raised from 30% of the original investment amount to 50%. Among the four measures, a district-level technical reform subsidy policy has been set up to increase the support for small and medium-sized enterprises and improve the enthusiasm of enterprises for technological transformation.
In the first half of this year, including the Huaying Flexible Screen R&D Center and Xingyun Electronic New Energy Vehicle Battery Intelligent Manufacturing Equipment, a number of new and old enterprises in Mawei District seized the dividends of the technical reform policy, accelerated the technological transformation, and promoted production equipment and technology. , energy efficiency, product quality improvement.