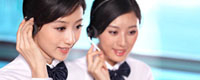 Name: Jessie
Tel: +86-755-27864416
Mobile: +86-18823763597
E-mail: jessie@rxxdisplay.com
Add: 3rd Floor Bldg.11,ChangXing Technical Zone,Wan An Road,Sha Jing town,Ban An district ,Shen Zhen ,GuangDong, China.
Skype: +8618823763597
WeChat: +8615623028461
whatsapp: +8618823763597
QQ: 1610996003





Company News
>> Longda Electronics Introduces Innovative Micro LED Technology
It is reported that vertical integrated LED manufacturer Longda Electronics has announced that it has introduced Micro LED chips with diameter less than 20 microns and RGB Micro LED and color conversion Micro LED chip technology, which can be used for different massive transfer processes and display technologies.
Ronda Electronics said that it will exhibit the new products and Micro LED chip technology at the 2018Touch Taiwan exhibition from August 29th to 31st. The company has been developing Micro LED and Mini LED technology, and it is one of the few with flip chip One of the LED manufacturers of manufacturing capabilities for horizontal and vertical micro LED chips.
Ronda Electronics Chairman David Su said that the application of Micro LED technology requires the cooperation of panel and equipment manufacturers. And because TV applications are too expensive, Micro LED technology will initially be used in small display devices such as smart wearables. And because there are still some technical problems that need to be solved, the large number of applications of Micro LED technology will take one to two years.
The display using Micro LED represents the next generation of innovative display technology with ultra-fine pixels, high brightness, superior power-saving features, long life, fast response and thin thickness. These displays are ideal for smart wearables, smartphones, VR (virtual reality) devices, and automotive displays.