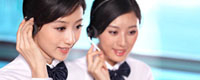 Name: Jessie
Tel: +86-755-27864416
Mobile: +86-18823763597
E-mail: jessie@rxxdisplay.com
Add: 3rd Floor Bldg.11,ChangXing Technical Zone,Wan An Road,Sha Jing town,Ban An district ,Shen Zhen ,GuangDong, China.
Skype: +8618823763597
WeChat: +8615623028461
whatsapp: +8618823763597
QQ: 1610996003





Company News
>> Panel shipments fell, panel maker Huaying sent 65 employees?
This year's panel market conditions are not good, and the panel factory has been laid off. On September 17, Huaying was exploding and announced layoffs of up to 20%.
Hua Ying said that the company carried out the final elimination for the poor performance appraisal staff in the first half of the year. The hiring staff accounted for 1.4% of the total staff and 65 people, all of whom are full-time employees. The employees who are dispatched will be in accordance with the provisions of the Labor Law. Handle.
At the same time, Huaying denied that the manpower was adjusted due to poor operation, but whether the units replenish the manpower depends on the needs.
In fact, Huaying is not the first panel factory to lay off employees this year. In May, Innolux also broke the layoffs. Innolux said that this time it is not layoffs, it is weak and strong. In order to maintain competitiveness, the company will have a routine management of weak and strong management every year. At present, there are 30,000 employees in Taiwan. This time, the number of employees is 72, which is only 0.2%, which is quite low. The 72 employees who have been employed have been re-trained and retrained for half a year, and they are cautiously assessed for discomfort, and then report the funds to the competent authorities and follow the regulations.