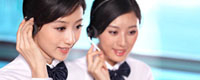 Name: Jessie
Tel: +86-755-27864416
Mobile: +86-18823763597
E-mail: jessie@rxxdisplay.com
Add: 3rd Floor Bldg.11,ChangXing Technical Zone,Wan An Road,Sha Jing town,Ban An district ,Shen Zhen ,GuangDong, China.
Skype: +8618823763597
WeChat: +8615623028461
whatsapp: +8618823763597
QQ: 1610996003





Company News
>> Continental uses waveguide technology to push ultra-compact augmented reality-head-up display
According to foreign media reports, the German technology company Continental (Continental) showcased the industry's first full-color demonstrator for the vehicle-specific head-up display (HUD) based on waveguide technology. The demonstrator was developed jointly by the mainland and DigiLens, one of the leading experts in projection technology using switchable holographic gratings.
Dr. Frank Rabe, Head of Instrumentation and Driver Human Machine Interface (HMI), Continental Business Unit, said: "Head-up displays, especially those with large-area enhancements, provide the best driver support. Since we invested in waveguide technology early on, Promoting a big step towards the ultra-compact augmented reality-head-up display (AR-HUD). We have successfully overcome the most challenging obstacle, the size of the display, and now it is possible to mass-produce automotive AR-HUD."
Head-up display with image enhancement in real-world view for intuitive driver support. Embedding augmented reality in the real world allows drivers to immediately understand where they need to be and why. For example, a virtual turn navigation sign on a road makes driving safer and easier. In the process of automatic driving, AR-HUD can make the car's "sensing" and "decision" more transparent. Since the AR-HUD needs to embed the enhancements in the driver's front field of view, it is necessary to use a mirror inside it (this is the most advanced technology available today), but this will result in an AR-HUD volume of approximately 30 cubic decimeters - for Most dashboards take up too much space.
The new continental AR-HUD with waveguide technology significantly reduces the size. With this new and innovative technology, Continental has achieved an enhanced area of ​​15° x 5° (= 2.60 m x 0.87 m, projection distance of 10 m) while reducing the equipment size to only 10 cubic decimeters. . In this way, the device can be integrated into many vehicles.