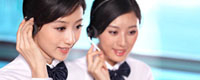 Name: Jessie
Tel: +86-755-27864416
Mobile: +86-18823763597
E-mail: jessie@rxxdisplay.com
Add: 3rd Floor Bldg.11,ChangXing Technical Zone,Wan An Road,Sha Jing town,Ban An district ,Shen Zhen ,GuangDong, China.
Skype: +8618823763597
WeChat: +8615623028461
whatsapp: +8618823763597
QQ: 1610996003





Company News
>> BOE Senior Vice President: The price of folding screen mobile phones will drop to around 10,000 in 2021
Although some manufacturers have introduced folding screen mobile phones, the biggest problem at this stage is that the price is too expensive and can not be popularized, but screen manufacturers are also working hard to lower the price of the relevant screen.
Zhang Yu, senior vice president of BOE, said in an interview that the folding screen phone will drop to around 10,000 yuan at 2021.
For this trend, Zhang Yu believes that on the one hand, various screen panel companies will release production capacity, on the other hand, material costs will also drop significantly after two years.
In February of this year, Huawei released the folding screen mobile phone Mate X in Barcelona, which sold for 2,299 euros (about 17416 yuan) and will be sold in the middle of this year. Huawei has admitted that its screen supplier is the Chinese company BOE.
It is reported that the current cost of 55-inch 4k TV panels of BOE is around 200 US dollars, and Zhang Yu has not denied the news that Huawei purchased TV screens for BOE.