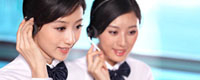 Name: Jessie
Tel: +86-755-27864416
Mobile: +86-18823763597
E-mail: jessie@rxxdisplay.com
Add: 3rd Floor Bldg.11,ChangXing Technical Zone,Wan An Road,Sha Jing town,Ban An district ,Shen Zhen ,GuangDong, China.
Skype: +8618823763597
WeChat: +8615623028461
whatsapp: +8618823763597
QQ: 1610996003





Company News
>> Folding screen mobile phone speeding BenQ display flexible OLED panel technology
At the MWC show in February, Samsung and Huawei each launched their own folding screen phones, Galaxy Fold and Mate X, to announce the arrival of the folding screen mobile phone era. The key difficulty of the folding screen mobile phone is on the flexible screen. At present, Samsung has its own flexible OLED panel. Huawei relies on the domestic supply of BOE. Other mobile phone manufacturers want to find the right flexible OLED panel supplier.
BenQ BenQ's BenQ materials announced on the 14th that it will display its own flexible AMOLED panel at SID Display Week in San Jose, California. BenQ said that it is a high weathering, thin and flexible display of flexible AMOLED panels, and Natural black demand can provide a corresponding solution.
BenQ Materials develops ultra-thin functional films to meet the needs of display applications of various curvatures and sizes. The site will showcase the latest mobile wearable mobile phones with customers, showing the research and development strength of BenQ materials in the field of optical functional film and materials science. .
In addition to flexible AMOLED panels, BenQ will also showcase its exclusive precision micro-architecture technology, which can change the distribution of light and improve the color cast of OLED panels at different angles.
The on-site display meets the special-shaped polarizer required for the AMOLED panel and is equipped with a wide viewing angle technology, which can solve the color shift problem of the conventional AMOLED under a large viewing angle, and ensure the good quality of the image.