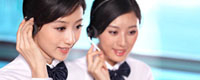 Name: Jessie
Tel: +86-755-27864416
Mobile: +86-18823763597
E-mail: jessie@rxxdisplay.com
Add: 3rd Floor Bldg.11,ChangXing Technical Zone,Wan An Road,Sha Jing town,Ban An district ,Shen Zhen ,GuangDong, China.
Skype: +8618823763597
WeChat: +8615623028461
whatsapp: +8618823763597
QQ: 1610996003





Company News
>> LG Display will release a self-sounding bendable OLED display
1
[Huawei's next-generation flagship chip Kirin 9010 will use 3nm process]
According to a Finnish whistleblower, Huawei's next-generation Kirin processor is currently in development and design, using a 3nm process called "Kirin 9010."
Foreign media Gizmochina pointed out that although most people speculate that Huawei's flagship chipset will use the 5nm process for at least the next two years, according to this revelation, if all goes well, Huawei will launch a 3nm processor in 2021. , And the Mate50 series in the fourth quarter may be the first to release the latest chips.
2
[Ericsson CEO: If the ban on Huawei still exists, Ericsson will leave Sweden]
According to the "Pledgetimes" website quoting Swedish "Daily News", Ericsson CEO B?rje Ekholm threatened in a text message sent to Swedish Minister of Commerce Anna Halberg: "If the Huawei ban still exists, Ericsson will leave Sweden."
In this regard, Anna Halberg said that the Swedish government cannot lift the ban because the decision was made by the Swedish Post and Telecommunications Administration's temporary secretariat based on the recommendations of the security department and the Wehrmacht.
3
[Tesla began delivering the Chinese version of Model Y in January, and it is expected that China's sales in 2021 are expected to exceed 180,000 units]
According to Reuters, Tesla said that China-made Model Y will be delivered to customers in January 2021.
According to CITIC Securities, on January 1, the domestic Tesla Model Y went public, and its entry price dropped more than market expectations and was significantly lower than that of BBA fuel vehicles of the same level. Sales are expected to exceed 400,000 vehicles.
4
[Rumored that TSMC and Samsung have encountered obstacles in 3nm development, fearing to delay mass production time]
According to digitimes reports, industry sources revealed that TSMC and Samsung have encountered different but critical bottlenecks in the development of their respective 3nm process technologies. According to reports, TSMC and Samsung will therefore have to postpone the development progress of the 3nm process technology.
TSMC Chairman Liu Deyin previously stated that TSMC's revenue in 2020 will continue to hit a new high, leading the layout of 3nm, and the cumulative investment in Nanke will exceed 2 trillion Taiwan dollars (the same below), and the goal is to achieve 3nm mass production, 12-inch crystal The full moon production capacity exceeds 600,000 pieces. TSMC plans to mass produce 3nm in 2022.
5
[LG Display will release a self-sounding bendable OLED display]
According to news on January 3, South Korean display manufacturer LG Display will release a bendable and self-producing 48-inch OLED cinema sound (CSO, CSO) at the 2021 International Consumer Electronics Show (CES 2021) that opens on January 11. Cinematic Sound OLED) display.
According to the company, the maximum curvature of the display is 1000R, and the screen can be viewed on a flat screen when watching TV, and it can be bent in a curved mode to enjoy a better visual impression when playing games. The product adopts the theater audio technology with the screen self-producing, the "Exciter" (Exciter) thickness is greatly reduced from the original 9 mm to 0.6 mm, and the appearance design is more sophisticated.
6
[Ericsson wins 122 5G commercial contracts]
According to news on January 3, according to data released by Ericsson's official website, as of now, Ericsson has won 122 5G commercial contracts around the world, of which Ericsson has reached public 5G commercial contracts with 71 operator customers, currently in 40 countries And the region provided equipment for 77 5G commercial networks that have been officially in operation.
Ericsson is also very optimistic about the future development prospects of 5G. The latest edition of Ericsson's Mobile Market Report predicts that by the end of 2020, 5G users worldwide will reach 220 million; especially in China, the three major operators are working to expand the coverage of 5G, and it is expected that the number of 5G subscribers in China will reach 1 by the end of 2020 7.5 billion.
7
[The demand for advanced wafer foundry processes is strong, and production capacity is expected to continue to be tight in 2021]
According to Taiwan Media Economic Daily, 5G and high-performance computing applications drive the demand for advanced wafer foundry processes. It is expected that the global foundry output value and the investment scale of 12-inch wafer fabs will reach new highs in 2021. Among them, the proportion of TSMC's 5-nanometer process can be greatly increased. The 7-nanometer capacity is fully loaded to the second quarter, UMC's 8-inch wafer capacity continues to be tight, and the global silicon wafer capacity is fully loaded until the first half of the year.
Looking forward to the boom of the semiconductor foundry industry in 2021, the International Semiconductor Industry Association (SEMI) predicts that the demand for cloud services, servers, laptops, games, and medical technology will grow in 2021, and 5G, Internet of Things, automobiles and artificial intelligence (AI) will grow rapidly Development has driven the foundry industry boom and investment in 12-inch wafer fabs. It is estimated that the scale of global investment in 12-inch wafer fabs in 2021 may grow by 4% compared with last year, setting a new record high. In this regard, the market research organization TrendForce also predicts that the foundry output value in 2021 is expected to reach a new high, with an annual growth rate of nearly 6%.
Looking forward to the market conditions of the 5nm and 7nm advanced processes in the first half of 2021, industry insiders pointed out that the utilization rate of 5nm is still relatively optimistic, and TSMC has not cut orders or declines in capacity utilization. Good; In addition, only TSMC and Samsung in the world have mass production capacity below 7nm. TSMC's yield rate is higher than its competitors. In the first half of 2021, TSMC can still have an advantage in 5nm and 7nm advanced process capacity.
Looking forward to the second half of 2021 to 2022 next year, in response to the strong order demand of many high-performance computing (HPC) customers in 2022, TrendForce pointed out that TSMC and Samsung have actively expanded their 5-nanometer capacity plans. TSMC said that the 5-nanometer process was mass-produced last year, but it did not disclose the mass production schedule and monthly production progress of individual factories.
TrendForce expects that even if the COVID-19 epidemic eases in the second half of 2021, there is still the possibility of inventory corrections for TVs, laptops and other home economy demand products. However, communication generations are changing, and 5G, Wi-Fi 6 and other infrastructure layouts continue to ferment , Coupled with the increase in the penetration rate of 5G smartphones, will continue to promote the capacity utilization rate of the foundry to maintain 90% high-end. On the other hand, if the SMIC ban is not resolved, the semiconductor components originally produced at SMIC are bound to seek other crystals. With the assistance of Yuanchang, the global foundry market will be more tight than at this stage.
8
[Huawei Changchun Research Institute was officially established, focusing on chemistry, materials, optics, car networking and other related fields]
According to news on January 2nd, according to the official website of Jilin University, on December 30, 2020, the Changchun Research Institute of Huawei Technologies Co., Ltd. was established.
Huawei stated that the establishment and operation mode of the Changchun Institute of Huawei Technologies Co., Ltd. was inspired by Professor Huang Danian of Jilin University who established the "Tea House" during his lifetime. Its vision is to further serve as experts, scholars, and experts based on long-term good cooperation with Jilin University. The scientific research team builds an open and inclusive exchange and discussion space and scientific research platform for ideological collision with Huawei's technical strength.
9
[Huazhong University of Science and Technology developed and delivered the first high-precision quantum gravimeter]
On January 3, the Gravitation Center team of Huazhong University of Science and Technology announced that after 15 years of painstaking research, the team has made breakthroughs in the research and development of quantum gravimeters. Recently, it has successfully developed and delivered the first high-precision absolute gravimeters in related industries.
After double-blind measurement and evaluation at multiple points and comprehensive evaluation by experts from multiple units, the accuracy of the instrument has reached the micro-ga level, which has been well received by users and has passed the acceptance.
10
[NIO delivered 7007 vehicles in December 2020, and delivered 43,728 vehicles in total throughout the year]
On January 3, Weilai announced the number of deliveries in December 2020 and the whole year. The data shows that NIO delivered a total of 7007 new cars in December, an increase of 32.4% from the previous month, setting a new high for the brand's monthly delivery for the fifth consecutive month, an increase of 121.0% year-on-year, and the ninth consecutive year since April 2020. It doubled month-on-year.
So far, NIO will deliver 43,728 units in 2020, an increase of 112.6% year-on-year.
11
【Lost in the first instance, Amazon shall no longer use the AWS trademark】
According to a report from Leifeng.com, China Wenxue.com recently issued the "First-instance Civil Judgment on Trademark Infringement Disputes between Beijing Yanhuang Yingdong Technology Development Co., Ltd. and Amazon Connect Technology Services (Beijing) Co., Ltd.". Amazon was sentenced to no longer use the "AWS" logo and compensated the plaintiff with 76.46 million.
The judgment stated that the "AWS" logo used by Amazon Connect Technology Services (Beijing) Co., Ltd. and Beijing Sinnet Technology Co., Ltd., regardless of whether the alleged infringement involves the service purpose, content, method, and object of the service item, or its The sales channels and sales targets involved are closely related to the registered trademark of Yanhuang Yingdong Company. The relevant public generally believes that they have specific connections and are likely to cause confusion. Therefore, the registered trademarks of Yanhuang Yingdong Company constitute Similar services or similar goods.
12
[Samsung Galaxy S21 will cancel the microSD card slot, some markets will include a charger]
News on January 2 Samsung's upcoming Galaxy S21 mobile phone configuration information has basically been exposed. Recently, a Twitter broke the news that the S21 mobile phone will no longer be equipped with a micro SD card slot. In addition, some markets will include chargers, and other markets will no longer include chargers with the package.
Earlier, foreign media said that Samsung Galaxy S21 will have multiple configurations for different regions, and S21 phones in some countries and regions will still retain the SIM+microSD hybrid card slot. In addition, the Samsung S21 series is also expected to follow Apple and no longer include a charger for environmental protection.