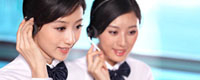 Name: Jessie
Tel: +86-755-27864416
Mobile: +86-18823763597
E-mail: jessie@rxxdisplay.com
Add: 3rd Floor Bldg.11,ChangXing Technical Zone,Wan An Road,Sha Jing town,Ban An district ,Shen Zhen ,GuangDong, China.
Skype: +8618823763597
WeChat: +8615623028461
whatsapp: +8618823763597
QQ: 1610996003





Company News
>> Samsung display flexible OLED display or for next year's smartphone 23th,Mar,2017
May 25, Samsung in terms of technology can be described as "double happiness". In addition to announcing the launch of the iris scanner in India, Samsung also demonstrated the latest smartphone flexible OLED display.
It is worth noting that the Samsung display of flexible OLED display is different from the Galaxy S7 edge display - packaged in a fixed surface glass flexible OLED display, which makes the latter more like a non-flexible OLED display. The outside world know that Samsung has been developing a fully flexible, flexible and distorted mobile device display, Samsung may be released in 2017 can be folded as a wallet as a smart phone in the configuration of such a display.
In addition to the picture called the "Galaxy X" smartphone patent application material, Samsung has demonstrated its flexible display technology prototype, such as later converted into Galaxy Note Edge YOUM concept of mobile phone design in the display. Samsung does not often show flexible screen technology, but the display of technology has considerable potential.
PhoneArena said that at the SID 2016 show in San Francisco, Samsung demonstrated a full HD resolution 5.7-inch OLED display with a thickness of only 0.01 inches (0.3 mm) - this figure does not include the touch layer, Flexible. In the demonstration, the OLED screen is extracted from the device of the film cartridge. We expect Samsung to be able to produce more of these displays - thanks to the recent huge investment, to produce a truly different from the previous mobile phone.
Although the competitors did not sleep, but other companies in the flexible OLED screen progress as Samsung. Recently, a Chinese company launched a flexible graphene touch screen. Earlier this year, Queen Charles University researchers showed ReFlex, a smart smartphone prototyping product, with a 6-inch display with a resolution of 720 x 1280 pixels manufactured by LG Display. Although Samsung may be the first company to sell flexible handsets in the market, competitors will soon catch up. Hope that flexible mobile phones can capture the market.