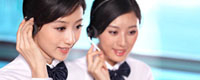 Name: Jessie
Tel: +86-755-27864416
Mobile: +86-18823763597
E-mail: jessie@rxxdisplay.com
Add: 3rd Floor Bldg.11,ChangXing Technical Zone,Wan An Road,Sha Jing town,Ban An district ,Shen Zhen ,GuangDong, China.
Skype: +8618823763597
WeChat: +8615623028461
whatsapp: +8618823763597
QQ: 1610996003





Company News
>> Sharp OLED panel movement experts look like this 15th,June,2017
Although Sharp's strength is the indium gallium arsenide (IGZO) panel, which can be used as a back panel for organic light emitting diode (OLED) panels, experts say Sharp should still develop OLED chips for low temperature polysilicon (LTPS) backplanes panel.
Professional development agencies IHS senior research director Xie Qinyi analysis, Sharp production IGZO panel for Tablet PC, TV panel, high-end mobile phone panel mainstream or LTPS panel, and even the future of Apple's new generation of mobile phone OLED panel, the required backplane or LTPS the Lord.
Xie Qinyi said, if mining IGZO panel when the OLED panel backplane, or to Tablet PC, TV applications is appropriate.
May 12 group of optical open press conference, in addition to the announcement of the former chairman of the section of the line is about to go to Japan, to Sharp to run new, by the general manager Wang Zhichao took over the chairman, but also a big move that Hon Haihua NT $ 200 billion investment Sharp, because optimistic about IGZO technology, can be used as OLED panel backplane.
Xie Qianyi bluntly, group of optical technology is not clear IGZO panel is done OLED mobile phone panel backplane, Sharp for Apple's next generation of OLED mobile phone panel orders, cover OLED panel production line, should still be adopted LTPS panel when the backplane.
He explained that the phone needs high resolution, if only 400 pixels per pixel (PPI), with IGZO can, but 500PPI to use LTPS to do it.
He said that Apple and Samsung have a brand competition, Apple smart phones since iPhone4s began to have no Samsung panel, but Apple once the use of OLED mobile phone panel, now only Samsung display OLED panel production meet Apple's requirements, so Apple's new generation of OLED mobile phone panel Or let Samsung lead the first array.
From another point of view, he believes that the South Korean panel factory IGZO panel does not lose Sharp, but also to close the Sharp supply to Apple's iPad Tablet PC use; but Sharp also has the ability to produce high-quality LTPS panel, and even do For the future production of OLED panel backplane.
He stressed that IGZO panel electron mobility is too low, only 50, but LTPS is up to 100, the phone panel needs high resolution, LTPS panel is more appropriate, even OLED mobile phone panel backplane, but also to LTPS more appropriate.
As for CPT plans to build IGZO panel production line, the future and may use IGZO panel as OLED backplane. He said, Huaying small and beautiful business strategy, aimed at non-Ping camp in the low-end mobile phone market, automotive display panel market, the resolution does not need so high, so you can do IGZO OLED panel backplane.
Apple may introduce low temperature polysilicon (LTPS) plus metal oxide (Oxide) - indium gallium zinc oxide (IGZO), the integration of two processes of the panel. Xie Qinyi said that this is Apple's patent, although the outside world speculation whether Apple to find a joint development of the panel factory, but the process must be 18 mask, the cost is quite high, there is no panel plant investment.